Grey trousers are an essential wardrobe staple for good reason. Extremely versatile, the grey trouser is everything the modern man needs for his nine to five hustle. When you own a grey pair of high quality, tailored trousers, you'll no longer need to stress about finding a completely new outfit each morning. The styling possibilities are endless. Dress them up with smart separates, or dress them down with T-shirts. As for colour matching, grey is simple enough to look great with just about any colour, so don't worry about feeling constricted.
Our Guide | How to Style Grey Trousers Every Day of the Week
Ease into the start of the working week with a slim fitting, white linen shirt. It's casual enough to start the week off slow while replying to emails and finding your feet, but it still looks smart. Bonus, breathable fabric is extremely comfortable! Pair this outfit with a pair of smart, well-polished Derby shoes to start your week off right.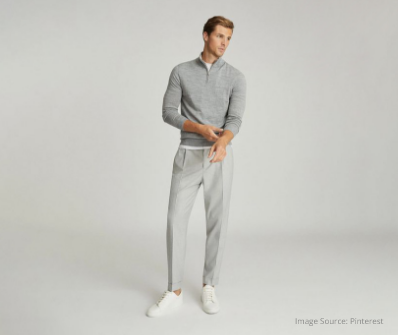 Tuesday – Smart Separates
Show your colleagues that you mean business by wearing smart separates. Pair your grey trousers with a navy, or lightly checked jacket for a stylish business look. Keep it simple or spice it up with a bold colour choice to match your unique image and personality. Hint* avoid black for this look to avoid looking overly formal and top-heavy.
You've made it to the middle of the week, so today you deserve a low-key, comfortable dress style. Opt for a slim-fitting pastel (or monochromatic) sweatshirt to pair with your trousers. The formality of your trousers means you won't come across too casual, and if you're concerned you will, wear a button-up shirt underneath or an unstructured blazer on top. Pair this look with a pair of clean, white sneakers or your favourite pair of desert boots
Thursday – Modern / Conventional
Wear something that is office appropriate but can easily be substituted for a weekend outfit. A simple cardigan is the perfect piece of smart-casual wear for your Thursday in the office. The V-shaped cardigan is classically understated, yet substantial enough to provide frame and structure alongside your grey trousers. Pair it with an oxford shirt and suede loafers for a seamlessly polished look.
Friday – Wrap up the Working Week
It's almost the weekend and you might feel tempted for a few after-work drinks. To be prepared for this, go for your handy chore jacket to display a casually tailored appearance. The boxy shape of this jacket will complement the slim fit of your trousers and can easily be paired with a T-shirt of your choice. Keep things tonal with off-white or khaki to match, and pair this stylish outfit with a pair of lace-up boots.
Shop Grey Trousers at Black Jacket Suiting
Now that you know how to style grey trousers for work, you're probably feeling excited to get your hands on a great quality pair. When you purchase corporate wear from Black Jacket Suiting, you're prepared for effortless transitions from the boardroom straight through to casual Fridays. With various shades of grey available, you have the option to go for casual, light and stylish looks, or more refined formal looks.
Choose from multiple different cuts, fabric qualities and styles as you browse Brisbane's finest business suits, otherwise contact us to book your tailor appointment.
Remember, a perfectly tailored suit isn't just attire, it's an experience. Book an appointment today, and let us be a part of your extraordinary journey.