HOW TO: WEAR YOUR SUITING ACCESSORIES?
HOW TO:
WEAR YOUR SUITING ACCESSORIES?
Suiting accessories can take a mediocre outfit to a spectacular one with minimal effort that can be used to your advantage when dressing from casual to formal occasions. The core accessories at your disposal to complete your suiting looks are ties, pocket squares and belts. While all may seem easy enough to add to your outfit, utilizing them in the correct way and for the right occasion can be the difference between a make or break of your outfit. Below is Black Jacket Suiting's guide to maximise the value from your suiting accessories.
First impression last and the tie is at forefront of your outfit and makes a statement to the world; as such you want to get this right for you and the occasion. Generally speaking, for more formal occasions you would stick to more conservative (plainer) colour and patterns; then for more casual setting you can use colour and patterns to match your personality (without clashing of course).
Whatever tie colour and pattern you choose the knot is what really 'ties' it all in and completes the look. The variety and complexity of the knots for ties could confuse a scout leader with different sizes, shapes and symmetries that all have unique and distinctive characteristics. To make things easy at Black Jacket Suiting we recommend two knots that will cover you for more casual and formal occasions:
CASUAL LOOKS - THE SIMPLE KNOT
The simple knot contains the fewest possible steps and is very easy to learn. The Simple knot is compact with an asymmetry causing it to lean toward the active end. This knot works well with thick neckties or for tall guys who need a little extra length. (Credit ties.com)
THE SIMPLE KNOT TYING INSTRUCTIONS
How to Tie a Perfect Simple Knot
FORMAL LOOKS – THE WINDSOR KNOT
Although the Duke of Windsor never specifically used the Windsor knot, he did favor a wide triangular knot. In actuality, the Duke achieved his trendsetting look by tying a Four-in-Hand with specially made wide and extra thick ties. The Windsor delivers a symmetrical and solid triangular knot that works best with a spread collar and provided a more formal finish to any suit. (Credit ties.com)
THE FULL WINDSOR KNOT TYING INSTRUCTIONS

How to Tie A Perfect Windsor Knot
While the traditional use of the 'pocket hanky' was one of practicality as a cloth for self-cleaning; the modern 'pocket square' can be used as the perfect accessory to provide some character to your outfit. It provides the opportunity to add some colour to an otherwise plain look or the ability to compliment a partner's outfit when going to an event together.
When it comes to folding your pocket square it becomes a game of origami and you can fold to your hearts content. If you're looking for a simple, no-nonsense fold, start with The Classic and Presidential folds. The Puff and Reverse Puff are equally simple to style but add a bit more organic, unpredictable flair. If you're into precision, peaked folds like The Three Peaks, The Winged Peak and the Angled Peaks will serve you well. If you're looking for more of a challenge, The Rose and The Stairs folds will help take your pocket square to the next level. (Credit ties.com)
HOW TO FOLD A POCKET SQUARE
12 Ways To Fold A Pocket Square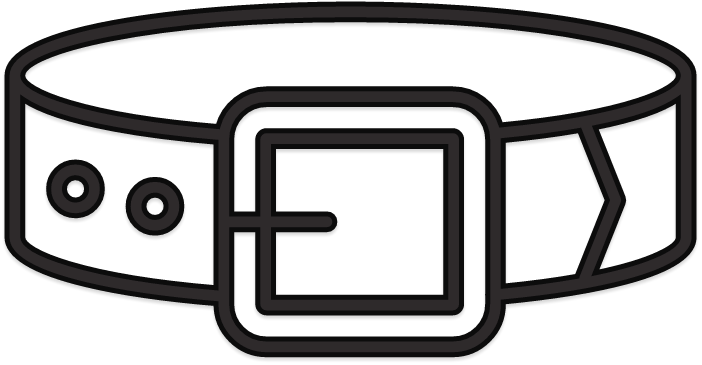 For the modern day the belt is so much more than just a device for holding up your trousers. It can be use to accentuate an outfit or to break colours between shirt and trousers. Generally speaking, for more formal looks the belt should compliment your shoes with a similar colour tone and material (usually leather). For more casual looks you have the ability to play around with your fabrics and colours to create a unique finish to your outfit.
At Black Jacket Suiting we carry a proudly Australian Made belt brand, conveniently namely Buckle. Their belts are all handcrafted in Australia using genuine leather. Many of the processes used back in 1922, when our brand was first established, are still employed today. The crafting of this accessory is quite complex, and it moves through 21 processes before you have a belt. We offer classic, vintage and casual styles – within our wide range, there is sure to be something perfect for you.
Belt Size Guide for Buckle
Happy with what you just read? We would love for you to experience our unique and personalised consultation process. Make a booking today with the below link or make an enquiry to learn more.