YOUR WEDDING PLANNER CHECKLIST!
YOUR WEDDING PLANNER CHECKLIST
Whether you're a couple of months or more than year out from the big day, plan your wedding confidence and tick all the right boxes along the way to saying 'I do'.
12 Months + from the Wedding
It's time to get the ball rolling! Make a plan of attack, the more details the better. Start with the following:
1- Talk budgets and insurance (rings + wedding). 
2- Discover your wedding style / aesthetic. Create a mood board on Pinterest!
3- Start a preliminary guest list.
4- Explore locations and venues (ceremony + reception).
5- Research wedding dress styles and brands / designers. 6- Shortlist your bridal party.
9 Months from the Wedding
Keep up the momentum! Time can fly in the year leading up to your big day, try to tick off smaller tasks when you feel like you're behind.
1- Reserve your perfect venue.
2- Purchase/ Order your wedding dress, veil and undergarments.
3- Book a celebrant / officiant.
4- Finalise your bridal party.
5- Start researching/ reserving photographer, videographers, florists and a DJ/ band.
6 Months from the Wedding
Make it stylish! This is the time to start making strides in your wedding planning.
1- Design + Mail your invitations.
2- Research accommodation nearby to the venue.
3- Finalise your wedding colours (Pinterest again!)
4- Meet with your suppliers to discuss logistics.
5- Begin planning and budgeting for your honeymoon.
4 Months from the Wedding
Time for the men! Make the groom/ groomsmen feel just as looked after as the brides party on the big day!
1- Complete your guest seating plan
2- Discuss budgets with the bridal party (are you contributing to their costs?)
3- Plan your bucks and hens parties!
4- Arrange small gifts for your bridal party on the day
5- Prepare a playlist for your DJ/ band.
6- Plan/ Reserve your floral arrangements.
3 Months from the Wedding
Your getting close now, let start adding the final touches!
1- Finalise your honey moon plans (Flights + accommodation).
2- Start writing your vows (plan it out first!)
3- Trial hair & makeup styles.
4- Lock in the menu for your reception.
5- Schedule initial fittings for your groomsmen outfits.
Down to the wire, now it all comes together!
1- Call your venders to confirm/ check all the dates & details
2- Schedule the final fittings for groomsmen & bridesmaids.
3- Pick up wedding rings
4- Write thank you notes for the guests
5- Finalise your vows and speeches.
Following our simple check list above will allow you to plan your perfect wedding without the stress.
Always remember that booking early and sticking to the plan will benefit you in the long run! Schedule appointments ahead of time to book your preferred dates and times and get involved with the process/ design where possible. Your wedding day is all about (both of) you!
" AUSTRALIA'S #1 GROOMS FASHION RETAILER "
Whether its suit hire, purchase or custom-made at Black Jacket Suiting our team of wedding experts will ensure you look and feel your best. With Brisbane's widest selection you will be sure to find the perfect suit the complements your style, shape and budget.
Over 200 Designs & Colours
Expert Alteration Service
Countless Fabrics, Designs & Colours
Measurement Test Suit Included
Complete Figure & Posture Analysis
Initial Consultation & Quoting
The first consultation (60mins) allows your stylist to chat with you and your partner about design, styles, patterns, cuts, and budgets to create a unique and personalized package for your big day. Sizing and try-ons are welcomed.
Outfit Confirmation & Preliminary Sizing
Your second consultation (30mins) allows you and your groom's party to confirm the items you are interested in. Your stylist will take preliminary sizing of the garments and note any specific requirements and quote you on expected alterations.
Order Reservation & Preparation
To guarantee your order and in line with our suppliers buying cycles we touch base to confirm the specific garments you require, complete deposits, and reserve your garments in store ready for final fittings. Later changes can still be made subject to T&C's.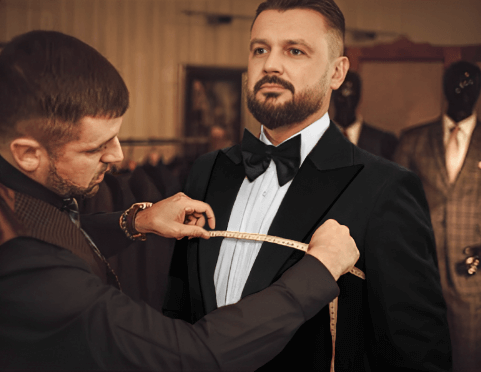 Final Sizing & Alterations
The final consultation (30mins) allows for your groom's party (group or individually) to fit your outfits and confirm our recommended alterations. The garments are they sent to our expert tailors to be prepped and ready for collection 1-2 weeks prior to your wedding.
Do you have less than 2 months to your wedding date? We can still assist you but need to move quickly. Enquire Now and we will be in touch.
THE BLACK JACKET DIFFERENCE
Walking into Black Jacket Suiting you should expect first class service. From a welcome drink to complementary products and services as part of your purchase every detail for your wedding suits has been meticulously thought out
While an appointment only service we are very flexible when it comes to our clients busy schedules. Our processes can be shortened to accommodate limited fitting availability while ensuring a high quality delivered product and our showroom allows for up to 20 people to be fitted within a time slot.
Our goal is to make your wedding suit experience as enjoyable, stress-free, and easy as possible. Our team will guide you through every step, advise you on how to navigate complexities unique to your wedding and take the upmost care with every detail.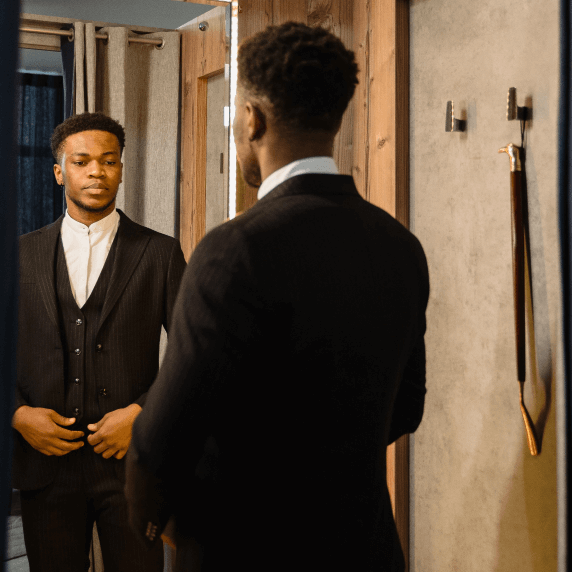 Do you have remote groomsmen that cannot attend fittings in store? This is a common occurrence for most of our wedding clients and we have developed a comprehensive DIY at-home measurement tutorial to accommodate for this.
The styling advice you receive from our team addresses the wedding as a complete unit, we consider the other party's side, parents, locations, dresscode and many more factors to provide you with bespoke advice for your wedding day
When it comes to wedding party attire it is important to have consistency and this can in some instances stretch the budget. At Black Jacket Suiting we make finding the perfect look seamless with our pre-made discount packages.
Whether it is for the whole groom's party, just the groomsmen or even the parents you can rest assured we can tailor a package that suits your needs.
Happy with what you just read? We would love for you to experience our unique and personalised consultation process. Make a booking today with the below link or make an enquiry to learn more.