Black Jacket Suiting have been awarded Queensland's no. 1 Groom's Fashion Award by the Australian Bridal Industry Academy (ABIA) in 2015, 16, 17, 18, 19, 20, 21, 2022 & 2023 as well as being awarded the Australian National Designers award in 2019. The team have maintained a 99% satisfaction rating based on anonymous client review over four key categories of Affordability, Product Quality, Customer Service and Product /Industry Knowledge.
Hire, Purchase or Tailor-Made suiting the team has proven to go above and beyond to attain the right fit, style and price for every client through their doors and pride themselves on combining the highest level of bespoke customer service with product diversity and affordable prices.
With Black Jacket Suiting you can rest assured the team will be with you every step of the way for your wedding journey. From styling to quoting, planning to fitting and everything in between our systems are transparent, simple and streamlined.
Inter-state or overseas groomsmen? This is no problem for the team with expert procedures in place to ensure that the perfect fit is attained every time. Offering a wide selection of wedding accessories from shirts to shoes and belts to ties we are your one stop shop.
With everything you need in one place as well as a team of highly skilled tailors on hand, Black Jacket Suiting have all you will ever need for your big day right at your disposal.
10th NATIONAL ABIA AWARDS
Initial Consultation & Quoting
The first consultation (60mins) allows your stylist to chat with you and your partner about design, styles, patterns, cuts, and budgets to create a unique and personalized package for your big day. Sizing and try-ons are welcomed.
Outfit Confirmation & Preliminary Sizing
Your second consultation (30mins) allows you and your groom's party to confirm the items you are interested in. Your stylist will take preliminary sizing of the garments and note any specific requirements and quote you on expected alterations.
Order Reservation & Preparation
To guarantee your order and in line with our suppliers buying cycles we touch base to confirm the specific garments you require, complete deposits, and reserve your garments in store ready for final fittings. Later changes can still be made subject to T&C's.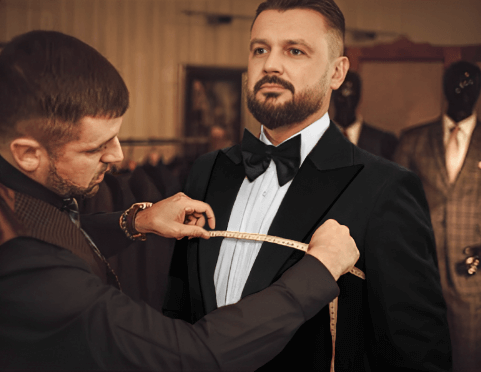 Final Sizing & Alterations
The final consultation (30mins) allows for your groom's party (group or individually) to fit your outfits and confirm our recommended alterations. The garments are they sent to our expert tailors to be prepped and ready for collection 1-2 weeks prior to your wedding.
Do you have less than 2 months to your wedding date? We can still assist you but need to move quickly. Enquire Now and we will be in touch.
Highly recommend. We got a custom made suit for my husband 4 off the rack suits for the groomsman and man of honour. High quality suits for a reasonable price.
Belle Enever
★★★★★
The service I received at Black Jacket Suiting is second to none. I have always preferred custom made suits because you always get something that is made to fit.
Brenden Alexander
★★★★★
Ryan and the team at Black Jacket have gone above and beyond for my wedding. None of my groomsmen live in Brisbane, which has added many layers of difficulty to the measuring and fitting process.
Stilesy21
★★★★★
Ryan has gone above and beyond and met our every need, offered expert advice where we were unsure and has been incredibly patient and flexible in terms of fittings and even a change of mind on the colour of the suits half way through!
Maria Gates
★★★★★
I regularly go to the gym and have found it hard to find someone who can tailor suits to my frame. Ryan's style of measurements got it right the first time!! If you want a suit you can't go wrong by visiting Black Jacket Suiting.
Boyd Buffier
★★★★★
My husband had an amazing experience with the staff at Black Jacket Suiting. When I saw my husband and his groomsmen at the end of the aisle they all looked so handsome and well attired.
Hannah S
★★★★★
We were really impressed with high quality suits at Black Jacket Murarrie. I was after the James Bond 007 suit and, boy, did I look the part on the big day.
Olivia C.
★★★★★
Black Jacket Suiting was great to deal with. they looked after us well and were very professional and knowledgeable. their hours of operation are great for the modern day worker and if you can still not make it in those hours they will work around with what you need.
Review via Abia
★★★★★
I found the staff of Black Jacket Suiting to be extremely helpful in preparation for my special day. They made me feel so comfortable and genuinely cared about giving the best service and advice. My day would definitely have not been as special and run as smoothly
Review via Abia
★★★★★
We were an odd party where not a single man was in the same state until a week before the wedding, we even had a man overseas for a period of time leading up to the wedding but the staff at Black Jacket, especially Ryan handled it without complaint and the men looked amazing on the day!!
Review via Abia
★★★★★
Happy holidaying and stay tuned for a summer weekend getaway packing guide coming soon!