MODIFYING THE
READY TO WEAR SUIT
Although ready-made suiting provides ample options for most, the mass-produced nature of the market can often call short in providing sizes, fabrics and or colours to cater for the individual.
While Black Jacket Suiting offers a premium tailor-made suiting range we found this didn't always accommodate for everyone's budget. In response to our clients' needs we have developed our Made-To-Order series.
The MTO range allows clients the ability to select fabric, design, and sizing to cater to their needs. It sits between our ready-made and custom product offerings to provide an introduction into the custom-suiting world.
Black Jacket Suiting offers quality, durable and long-life fabric options from our MTO ranges. Our range offer a introduction to the world of custom suiting without the associated price tag.
At Black Jacket Suiting your appointment will include a dedicated stylist and showroom to assist in navigating the extensive product range. Your stylist will provide bespoke advice based on your requirements as well as providing informative insights into styles and sizes to ensure you look and feel your best.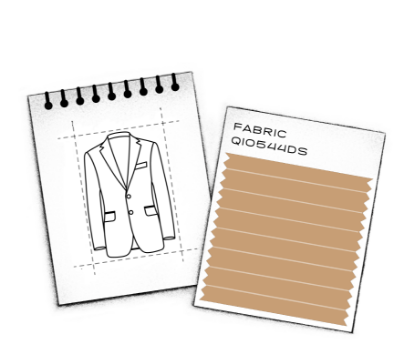 With over 2000 design combinations your stylist will navigate you through the ample fabric and styling options to ensure you gain a clear picture of your new garment.
Once styled you will be fitted in ready-made garments to assess your size and shape. Your stylist will then provide you with personalised advice on what measurement modifications are required.
Once confirmed your order is checked and processed internally, and at the manufacturing stage to ensure your garments are made to specifications.
Your outfit arrives in store within four weeks, at which point we are ready for you final fitting. Once confirmed your garments will be pressed and made ready for your collection.
MADE TO ORDER DESIGN OPTIONS
MADE TO ORDER
DESIGN OPTIONS
At Black Jacket Suiting our MTO range provides you with an introduction to the custom suiting experience and allows for cost, delivery times and in-store fitting requirements to be reduced. This series delivers a narrowed range of fabrics, designs, and pattern selections without finishing alterations included in comparison to our custom-made offering which delivers the full experience. Our dedicated team are committed to providing you with curated advice based on your fit, style, and budget requirements. Our full product range has been tailored with this in mind.
Expert Alteration Service
>2000 Design Combinations
Countless Fabrics, Designs & Colours
Measurement Test Suit Included
Complete Figure & Posture Analysis
Made To Order Suit Combinations
What is the difference between a lounge suit and a tuxedo? This is a common question that has a very simple answer. The primary separation of the two suits is presence of satin or silk details. Both options are readily available in out Made-To-Order series.
See below for Black Jacket Suiting's favorite lounge suit combination. The timeless black 2-Button Notch Lapel is the perfect staple for your wardrobe and can cover your for event from smart casual to formal dress attire. Follow the link below to explore our most popular ready-to-wear options or get some colour/design inspiration for your next made-to-order suit.
Happy with what you just read? We would love for you to experience our unique and personalised consultation process. Make a booking today with the below link or make an enquiry to learn more.