2-Piece Suit Price range from $99 to $2,500
Senior school formals are often the first opportunity for young man to wear a formal suit. At Black Jacket Suiting our mission is to make this occasion, comfortable, stress-free and uncomplicated all the while ensuring you look and feel your best.
While fast fashion has flooded the market in recent years, a quality and well fitted suit can easily distinguish you from the crowd. At Black Jacket Suiting we are dedicated to only providing our clients with quality and affordable suiting, with options for suit hire, purchase and tailor-made, you have the flexibility to work within your budget while ensuring quality.
At Black Jacket Suiting we ensure your suiting experience is made simple, seamless and tailored to your unique requirements. For our younger clients our general recommendation is to hire your suit. As younger clients are more likely to change in size/shape a hire suit provides a more affordable alternative while achieving a fit suited to your current build. The benefits of purchasing a suit provide you with a wider scope of fabrics, designs, and alterations options in which we carry a wide variety of choices to suit every budget.


Entry Level Suit Purchase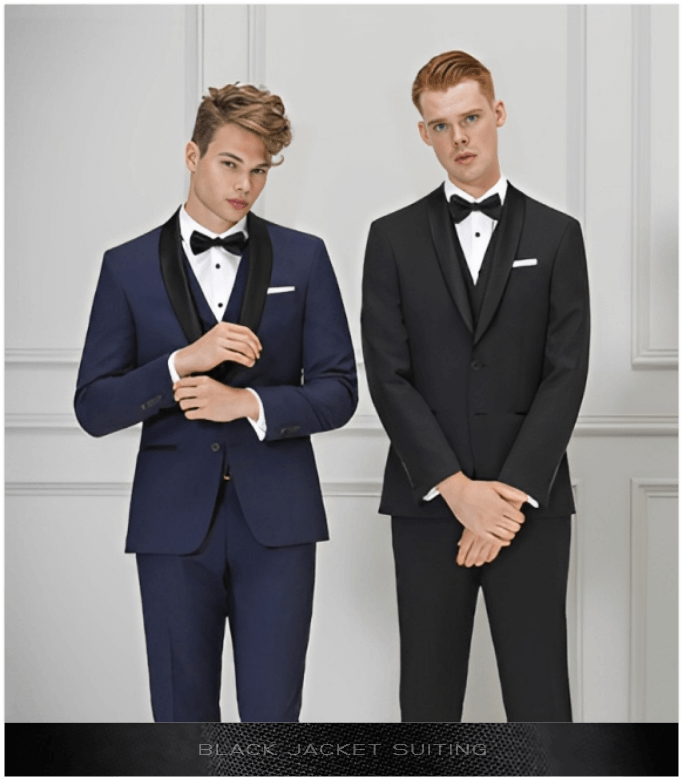 As a boutique appointment service your booking will include a dedicated showroom & stylist to ensure a seamless and informative experience. During a consultation you will be asked some key questions about your style, requirements, budget and dates. From here your stylist will provide you with bespoke advice on how we can best service your needs and match our products to ensure you look and feel your best.
Choose Your Quality Level
Collect Your Perfect Outfit
Are you after a truly unique suiting experience for your high school formal? If so, why not consider Black Jacket Suiting's Custom Suiting range. This option provides you with the ultimate suiting experience and permits almost limitless discretion over colour, fabric, cut and design details to ensure you have a one of a kind suit to reign in your penultimate year of schooling.
PREMIUM TAILOR-MADE SUITING
PREMIUM
TAILOR-MADE SUITING
With the wealth of choices at your disposal from fabric to design and cut it can be overwhelming to navigate all the possibilities. Our expert staff are highly trained to ask you the right questions and guide you towards your desired result. Throughout the process you will receive bespoke advice from your consultant that will provide you flexibility and agency over decision-making, with ease and efficiency.
Fabric options super 100s to 180s merino wool.
Horsehair canvas to YKK zippers to horn buttons and bemberg lining.
Premium waistband with internal shirt gripper to ensure durability.
Included full canvas construction for improved drape and longevity.
Breathable, light weight yet durable fabrics and linings for the Australian climate.
Body analysis and quality control precision coupled with almost limitless design possibilities.
The Custom Experience Package
Chasing a bargain but also want quality from your purchase? Why not consider purchasing one of our ex-hire suits at an amazing price? Unlike traditional suit hire shops who hire tired and worn out suits up to 30 times before disposing or selling them we are committed to quality and ensuring you look your best. Accordingly, we will not hire our suits more than 5 times and offer them up for sale at highly reduced prices.
This is not only a great way for us to ensure the high standards of our hire suits but also a chance to grab a quality suit at a very affordable price. All our suits are professionally dry cleaned after every use so you can rest assured knowing you're buying a clean and crisp suit.
Happy with what you just read? We would love for you to experience our unique and personalised consultation process. Make a booking today with the below link or make an enquiry to learn more.