Your wedding day will be a highlight of your life and a day where you need to look and feel your best. To achieve this, you will need to find the perfect wedding suits that complement your style, shape and budget.
 Whether its suit hire, purchase or custom suiting at Black Jacket Suiting all our clients are armed with the knowledge of how a suit should fit their build to boost their confidence all the whole not breaking the bank.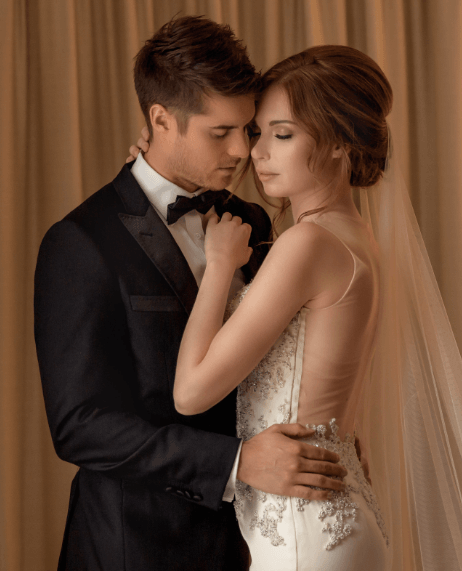 " AUSTRALIA'S #1 GROOMS FASHION RETAILER "
Arranging outfits for multiple people for a wedding adds a layer of complexity to the suiting experience. Accounting for different body shapes, themes/styles and groomsmen locations/schedules can be just the tip of the ice berg.
Why not let Black jacket Suiting take care of all of this for you? Over the last 15 years we have developed seamless processes focused on efficiency, transparency, concise communication, and timely planning. This has culminated in a bespoke four step process that allows us to offer you stress-free and no mistakes guarantee for your wedding day.
Initial Consultation & Quoting
The first consultation (60mins) allows your stylist to chat with you and your partner about design, styles, patterns, cuts, and budgets to create a unique and personalized package for your big day. Sizing and try-ons are welcomed.
Outfit Confirmation & Preliminary Sizing
Your second consultation (30mins) allows you and your groom's party to confirm the items you are interested in. Your stylist will take preliminary sizing of the garments and note any specific requirements and quote you on expected alterations.
Order Reservation & Preparation
To guarantee your order and in line with our suppliers buying cycles we touch base to confirm the specific garments you require, complete deposits, and reserve your garments in store ready for final fittings. Later changes can still be made subject to T&C's.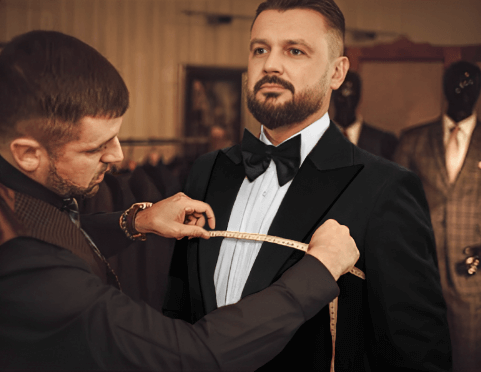 Final Sizing & Alterations
The final consultation (30mins) allows for your groom's party (group or individually) to fit your outfits and confirm our recommended alterations. The garments are they sent to our expert tailors to be prepped and ready for collection 1-2 weeks prior to your wedding.
Do you have less than 2 months to your wedding date? We can still assist you but need to move quickly. Enquire Now and we will be in touch.
At Black Jacket Suiting we pride ourselves on providing an exceptional experience/service at an affordable price point. When it comes to your wedding our team provide you with exceptional attention to detail and ensure you receive bespoke advice tailored to your unique needs.
We are the only store to offer out clients suit hire, ready-to-wear purchase suiting as well as made-to-order and custom suiting options. This provides your wedding party with incredible flexibility to mix and match products to suit individual budgets.
Over 200 Designs & Colours
Expert Alteration Service
Countless Fabrics, Designs & Colours
Measurement Test Suit Included
Complete Figure & Posture Analysis
THE BLACK JACKET SUITING DIFFERENCE
Walking into Black Jacket Suiting you should expect first class service. From a welcome drink to complementary products and services as part of your purchase every detail for your wedding suits has been meticulously thought out
While an appointment only service we are very flexible when it comes to our clients busy schedules. Our processes can be shortened to accommodate limited fitting availability while ensuring a high quality delivered product and our showroom allows for up to 20 people to be fitted within a time slot.
Our goal is to make your wedding suit experience as enjoyable, stress-free, and easy as possible. Our team will guide you through every step, advise you on how to navigate complexities unique to your wedding and take the upmost care with every detail.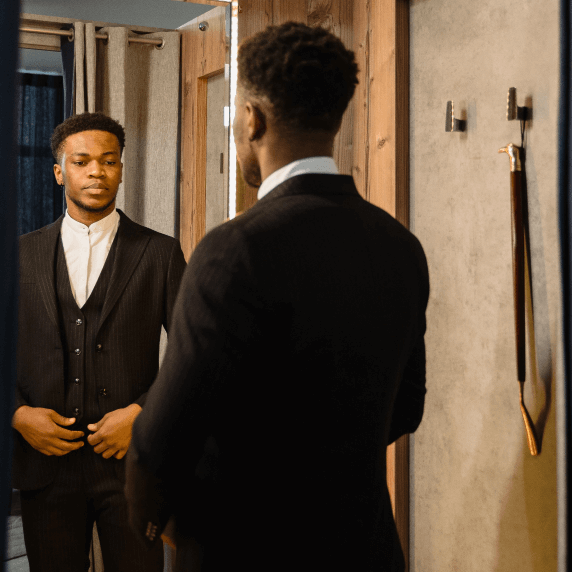 Do you have remote groomsmen that cannot attend fittings in store? This is a common occurrence for most of our wedding clients and we have developed a comprehensive DIY at-home measurement tutorial to accommodate for this.
The styling advice you receive from our team addresses the wedding as a complete unit, we consider the other party's side, parents, locations, dresscode and many more factors to provide you with bespoke advice for your wedding day
When it comes to wedding party attire it is important to have consistency and this can in some instances stretch the budget. At Black Jacket Suiting we make finding the perfect look seamless with our pre-made discount packages.
Whether it is for the whole groom's party, just the groomsmen or even the parents you can rest assured we can tailor a package that suits your needs.
Happy with what you just read? We would love for you to experience our unique and personalised consultation process. Make a booking today with the below link or make an enquiry to learn more.