MADE-TO-MEASURE SUITS Brisbane
With the ease of online shopping in the modern world, made-to-measure suits can seem needlessly exorbitant and extravagant. However, despite this ease, and the variety of off-the-peg options, custom tailoring has seen its own resurgence.
When men wear suits, they want to feel classy and at the top of their game – and there is nothing like individualisation to bring this to the table. Made-to-measure gives you the confidence to know that your wardrobe looks good on you. Whether you are strutting down the street, entering a meeting or attending a wedding, a personalised suit measured to fit you will never let you down.
Here are our favourite reasons why you should be utilising made-to-measure – not only for formal occasions, but for every walk of life.
Every man is born physically different. Whether it be a difference in arm length, torso width, or shoulder breadth, there isn't a man out there who hasn't spent hours trying to find their perfect fit.
But why spend days of your precious time trying to find the right brand that fits you? Suits are about looking good, and it seems pointless to limit your options due to a few centimetres of stitching in the wrong place. When you sew made-to-measure tailoring, a master tailor will adapt the suit you want to your individual physique. Forget having to worry about finding a suit that fits – instead, you can find a suit that actually suits you.
the confidence is unbeatable
A suit is more than simply fitting good, it is about making you feel good too. Forget having to worry about whether your cuff extends too far, or if your pants are too long. Made-to-measure tailoring gives you the absolute confidence to know you look like class epitomised.
Whether you are working or celebrating, enjoy the freedom to do what you should be doing, instead of worrying about your wardrobe. This is particularly relevant if you don't spend most of your time in a suit.
THE FABRICS & DESIGN OPTIONS ARE OVERWHELMING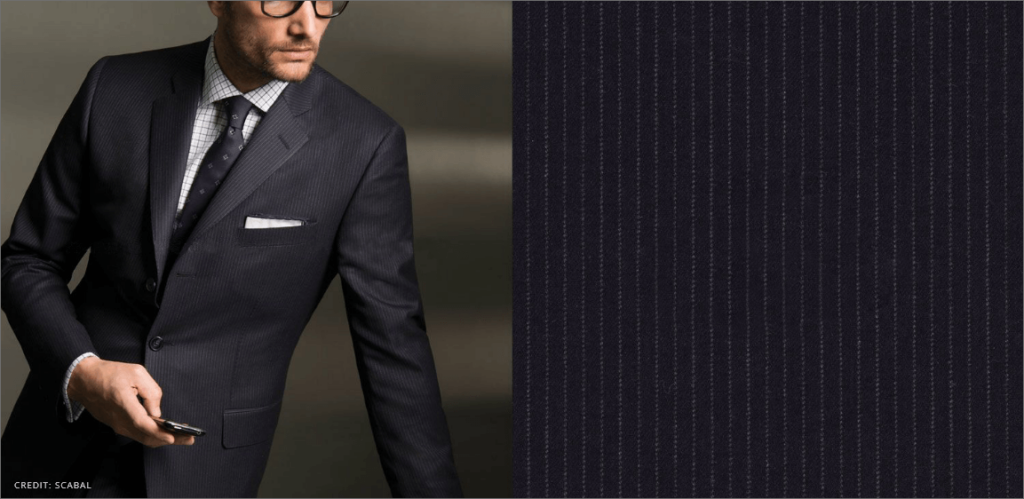 The off-the-rack world of suiting is rife with standard colours patterns and designs which do serve their purpose for the 80% of the market. But why not open yourself up to the other 20% and create something that is uniquely yours? When it comes to fabrics the choices are plentiful, you will find everything from checks to stripes, plains to textures and everything in between to start with a really unique base.
When it comes to design/style there more combinations than you can poke a stick at. From jacket style to pocket slants, thread colour contrasting to trouser extension style and even lapel widths down to the centimetre the recipe to your perfect suit can be as complex or simple as you like.
Even if you find you perfect suit design/style or fabric somewhere on the world wide web our team will source through our supply chain networks to find the closest match and even have a fabric sample send to us for you to confirm before purchase.
It is important to understand that going custom does take a little bit of imagination, choosing a fabric and designing a suit without seeing the end product requires elements of visualisation. However, the skilled sales team at Black Jacket Suiting will expertly walk you through this process and answer any and all questions you have to ensure you get exactly the end product you desire.
TAILORED SUIT COLLECTIONS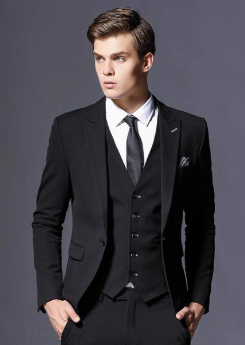 WHAT IS THE DIFFERENCE
BETWEEN A LOUNGE SUIT AND A TUXEDO?
What is the difference between a lounge suit and a tuxedo? This is a common question that has a simpler answer than most realise. The primary separation of tuxedo vs a lounge suit is the presence of satin or silk details. In the modern day it can be quite common to find the same base fabric in both a lounge suit and tuxedo option which allows for greater flexibility and longevity of wear.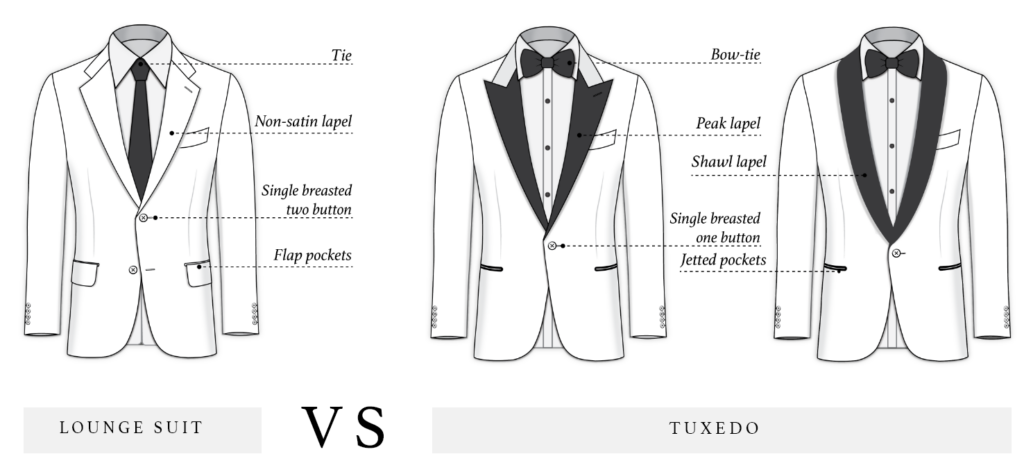 A notable common difference between the two include a tuxedo usually being single breasted one button vs a lounge suit being single breasted two button. Further, a tuxedo will usually not have flap pockets on the jacket in an attempt to minimize bulk and maximise sharpness. A tuxedo will generally be confined to a plainer pattern details and a conservative colour pallet (black & navy) whereas the lounge suit will have almost limitless colour and pattern options. Finally, a tuxedo will usually have a shawl or peak lapel as opposed to a lounge suit usually having a notch lapel.
Happy with what you just read? We would love for you to experience our unique and personalised consultation process. Make a booking today with the below link or make an enquiry to learn more.