What is the difference between a lounge suit and a tuxedo? This is a common question that has a simpler answer than most realise. The primary separation of tuxedo vs a lounge suit is the presence of satin or silk details.
In the modern day it can be quite common to find the same base fabric in both a lounge suit and tuxedo option which allows for greater flexibility and longevity of wear.
At Black Jacket Suiting we make your Tuxedo Hire or Purchase simple & straightforward.
A notable common difference between the two include a tuxedo usually being single breasted one button vs a lounge suit being single breasted two button. Further, a tuxedo will usually not have flap pockets on the jacket in an attempt to minimize bulk and maximise sharpness. A tuxedo will generally be confined to a plainer pattern details and a conservative colour pallet (black & navy) whereas the lounge suit will have almost limitless colour and pattern options. Finally, a tuxedo will usually have a shawl or peak lapel as opposed to a lounge suit usually having a notch lapel.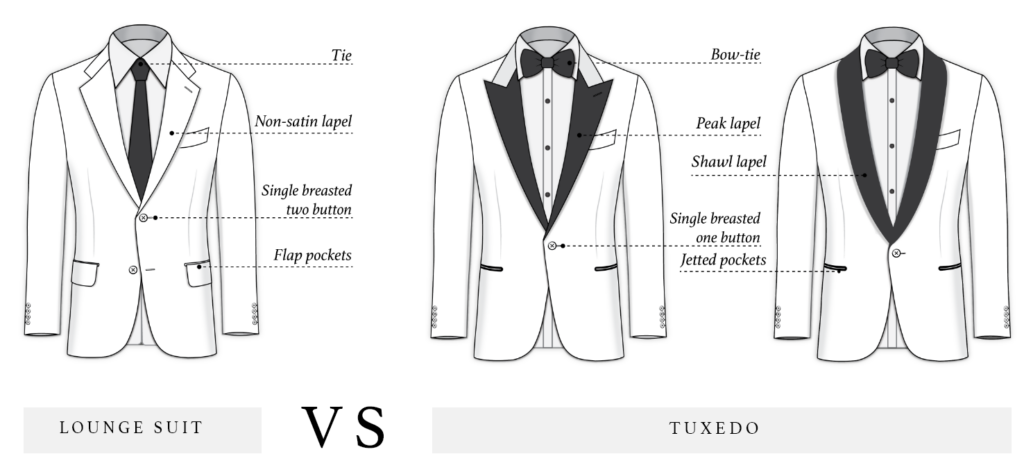 CAN A TUXEDO BE WORN AS A SUIT?
A tuxedo is simply more formal than a lounge suit and therefore it would be inappropriate to wear a tuxedo to an event that was not formal by nature (i.e. a business meeting). This is another reason a tuxedo can be often referred to as 'evening wear'.
If searching for wedding suit ideas as a guest first look to the dress code of the wedding, if not 'Black Tie' than it is advisable to wear a lounge suit as you do not want to outshine the groom as the most sophisticated man in the room.
The black lounge suit is arguably one of the most versatile options to have in your wardrobe arsenal. If you're required to attend a black tie event than this suit can be worn with a bow tie and formal vest to fit the part; but also, if you need to attend a business
interview/meeting than it can be worn with a corporate tie to fit the part. Therefore, this suit allows not only for a formal suit look to be achieved but also a dressed down and even casual affair attire when paired with mismatched trousers (e.g. grey).
We advocate for suit versatility and value our clients maximising their purchases.
Happy with what you just read? We would love for you to experience our unique and personalised consultation process. Make a booking today with the below link or make an enquiry to learn more.