Find your perfect wedding suit in Brisbane. Say goodbye to stress, embrace the finest mens wedding suits, tuxedos, lounge suits & formal suits.
Your Quest for
The Perfect Wedding Suit Ends Here
Weddings are a whirlwind of emotions and preparations. The centre of it all is you, the groom. You deserve to look as impeccable as the moment itself. If you've been tirelessly searching for mens wedding suits in Brisbane, your quest ends here.
Welcome to the ultimate destination for wedding suits that turn heads and make hearts skip a beat. We bring you the finest collection of wedding suits in Brisbane, carefully curated to cater to your individual taste. We blend the perfect mix of comfort and style in our extensive range, from the traditional elegance of a tuxedo to the suave sophistication of a black suit and everything in-between. Black Jacket Suiting, Brisbane's premier men's fashion destination, is here to ensure you find the perfect wedding suit.
Experience the Comfort and Style of
Never underestimate the power of comfort on your special day. Our lounge suits are crafted with meticulous attention to detail and a passion for comfortable elegance. Every stitch is tailored to your precise measurements, ensuring a fit that feels like a second skin. 
Made with premium fabrics, these suits are breathable and luxurious, transforming you into the epitome of effortless charm. At Black Jacket Suiting we understand that feeling good is just as important as looking good on your special day. Our lounge suits are expertly crafted for maximum comfort and a flawless fit. We deliver a balance of elegance and ease, so you can focus on making memories that last a lifetime. After all, weddings aren't just about looking great; they're about feeling your best too.
Make a Statement with Our Sophisticated
Black is timeless. Black is elegant. Black is bold. Our collection of formal black suits speaks the language of suave sophistication. Tailored to perfection, our black suits provide you with a classic look that never goes out of style.
Whether it's a day ceremony under the warm Brisbane sun or a night reception under the stars, a black suit is always a stylish choice. Impeccably cut and expertly fitted, our black suits redefine formal wear, setting you apart from the crowd.
A tuxedo is more than just a suit; it's a statement. For those seeking a dash of luxury and class on their wedding day, our tuxedos are the ultimate choice. Each piece exudes a distinct charm and sophistication that leaves a lasting impression.
The subtle sheen of satin lapels, the refined fit, the exquisite tailoring – everything about our tuxedos echoes elegance. We offer a diverse range of tuxedos, from the traditional black to more daring colours and patterns. If you aspire to have an unforgettable wedding look, our tuxedos are the perfect fit for your big day.
Trust Brisbane's Go-To
Source for Men's Wedding Suits
Weddings are once-in-a-lifetime occasions that deserve the best. And when it comes to mens wedding suits in Brisbane, we're your trusted source. We understand the importance of finding the perfect suit, one that matches your style and amplifies your personality.
Our commitment to quality, style, and comfort has earned us the reputation of being Brisbane's go-to destination for wedding suits. We believe that the perfect wedding suit isn't just about the fabric or the fit. It's about how it makes you feel on the most important day of your life.
Our diverse collection caters to a variety of preferences and budgets. We specialize in ready-to-wear suiting, suit rental, and creating affordable suits with quality craftsmanship. With options ranging from $99 to $3000, we ensure the perfect fit, style, and price for every groom. 
At Black Jacket Suiting, we offer a seamless shopping experience, professional styling advice, and top-notch customer service. With our commitment to customer satisfaction, we are your one-stop shop for all your suit and men's fashion needs.
A PERFECT WEDDING TAILORED TO YOU
Book a no obligation wedding consultation at Black Jacket Suiting now.
Initial Consultation & Quoting
The first consultation (60mins) allows your stylist to chat with you and your partner about design, styles, patterns, cuts, and budgets to create a unique and personalized package for your big day. Sizing and try-ons are welcomed.
Outfit Confirmation & Preliminary Sizing
Your second consultation (30mins) allows you and your groom's party to confirm the items you are interested in. Your stylist will take preliminary sizing of the garments and note any specific requirements and quote you on expected alterations.
Order Reservation & Preparation
To guarantee your order and in line with our suppliers buying cycles we touch base to confirm the specific garments you require, complete deposits, and reserve your garments in store ready for final fittings. Later changes can still be made subject to T&C's.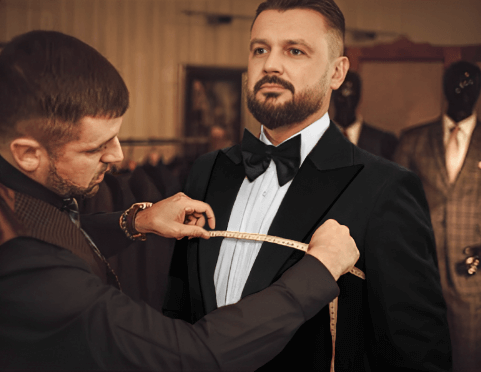 Final Sizing & Alterations
The final consultation (30mins) allows for your groom's party (group or individually) to fit your outfits and confirm our recommended alterations. The garments are they sent to our expert tailors to be prepped and ready for collection 1-2 weeks prior to your wedding.
Do you have less than 2 months to your wedding date? We can still assist you but need to move quickly. Enquire Now and we will be in touch.