WEDDING GUEST FROM OUTSIDE BRISBANE
Do you have guests or groomsmen who are located outside of Brisbane, Queensland, or even Australia? Are you worried about how to dress them up when they may arrive just days before your wedding?
No need to worry. At Black Jacket Suiting, we handle this situation regularly for our clients and guarantee a flawless fit every time. With our extensive range of hire, purchase, and custom suiting options, combined with our detailed "at-home" measurement guide, we consistently provide stylish and well-fitting suits for clients who are unable to visit our store for fittings
EXPERIENCE THE BJS DIFFERENCE
At Black Jacket Suiting we pride ourselves on providing an exceptional experience/service at an affordable price point. When it comes to your wedding our team provide you with exceptional attention to detail and ensure you receive bespoke advice tailored to your unique needs.
What Sets Our System Apart?
The era of one-size-fits-all suiting is behind us. With the wide range of suit cuts and styles available in the market, combined with individuals seeking a more tailored and form-fitting look, determining the right size and fit for each client has become a complex process, even when done in-store. 
In response to this challenge, we have developed and refined our measurement process to focus on the seven most critical points on the body. By doing so, we ensure a perfect fit every time. Our method creates a comprehensive sizing map that allows us to assess the entire body and address any specific areas that require special attention.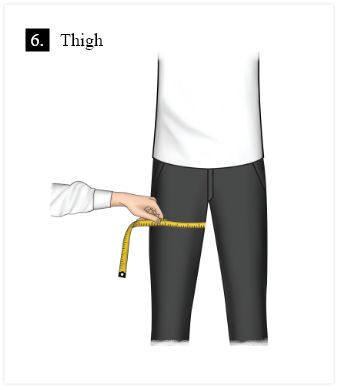 By following our simple, concise, and effective video tutorials, you can provide us with your baseline measurements. Once you complete the tutorial, we personally reach out to you to address any missing information or resolve any inconsistencies, ensuring that we have the precise measurements for your perfect size.
Expert Alteration Service
>2000 Design Combinations
Countless Fabrics, Designs & Colours
Measurement Test Suit Included
Complete Figure & Posture Analysis
CATERING TO ALL BODY TYPES
Bridal parties come in diverse shapes and sizes, and it's crucial to choose outfits that provide uniformity. Selecting the right suit fit and cut is essential. Avoid slim suits for larger individuals and avoid baggy suits for smaller individuals.
 Start by considering your most challenging-to-fit groomsmen and find a suit cut that accommodates their needs. It's always easier to adjust a larger-cut suit to fit a smaller guy (by dropping a size or making alterations) than to fit a bigger guy into a slim suit.
WHY CHOOSE BLACK JACKET SUITING?
With years of experience, we have fitted thousands of clients and successfully styled over 2000 wedding parties. We continuously improve our services and learn from each client to ensure flawless results. Our measurement tutorial is a testament to this commitment, refined over five years with a remarkable 99% success rate. Shop with confidence, even when not able to visit our store!
" AUSTRALIA'S #1 GROOMS FASHION RETAILER "
What is the difference between a lounge suit and a tuxedo? This is a common question that has a very simple answer. The primary separation of the two suits is presence of satin or silk details. Both options are readily available in all our product ranges.
FIND YOUR PERFECT PACKAGE!
Happy with what you just read? We would love for you to experience our unique and personalised consultation process. Make a booking today with the below link or make an enquiry to learn more.