Successful men often find a uniform and stick to it. By removing the need to choose a completely new outfit each morning, your mind is freed up to focus on other, more pressing issues. Grey trousers are a staple for good reason. They can be dressed up with smart separates or down with T-shirts. So make like Dr Dre, Mark Zuckerberg and Barack Obama by learning how to make a single pair of grey trousers work from Monday to Friday without breaking a sweat with these five looks.
The start of the working week is mostly spent replying to emails and avoiding as much human contact as possible, but that doesn't mean dressing like you've already given up. Smart attire will distract colleagues from your slightly bleary eyes. A white grandad shirt is an excellent piece of Monday morning subterfuge. When cut slim from soft cotton poplin, it can look just as smart as its collared brethren while feeling much less restrictive. To bookend this outfit, keep things smart with a well-polished Derby shoe.
Tuesday – Down To Business:
Now that the sins of the weekend have been washed away with copious amounts of coffee, it's time to put your best foot forward and show you mean business. Grey trousers worn with a navy jacket is a classic separates combination that's never not in style, though you might also choose a deep oxblood red or something with a subtle check. The monochromatically-minded might want to opt for something simpler, but steer clear of black unless you're aiming for a more formal look.
Wednesday – Grey On Grey:
In complete contrast to Tuesday's well-heeled showing, sometimes the hump-day requires a more low-key approach to dressing. The formality of your trousers means that you can get away with a relatively laid-back top-half. A slim-fitting pastel sweatshirt barely registers as sportswear when worn in place of knitwear, especially if layered underneath an unstructured blazer. If a collar is non-negotiable, you can easily slip the basic over a button-down shirt, but leave the tie in your drawer for another day. Cleanwhite sneakers complete this understated outfit, but they can easily be substituted for desert boots in a pinch.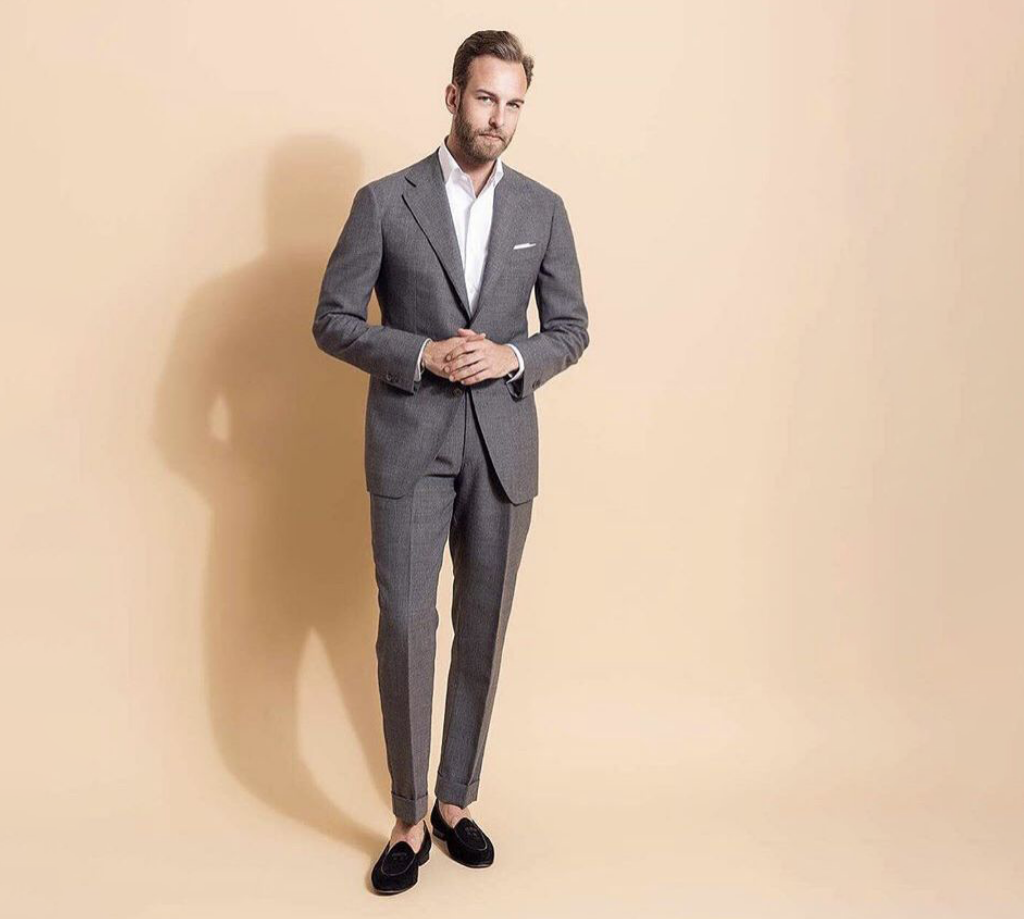 Thursday – Modern Preppy:
As the working week begins to wind down, you might be tempted to take a lengthy working lunch or to down tools early for a spot of alcohol-sponsored team-building. Decoded in menswear speak, that means what you require is something that is office-appropriate, but won't look out of place at the bar. A simple cardigan is the perfect piece of smart-casual wear for this very scenario. The V-shaped garment is a classic, understated choice, with all the substance and framing effect of a lightweight blazer but none of the structure. Wear it with a white Oxford shirt and the obligatory suede loafers.
Friday – Drawing the Work(wear) Week To A Close:
With the bright lights of the weekend in sight, a few after-work beers feels almost obligatory. To dress for this, look to the holy grail of workwear: the chore jacket. A modern, utilitarian alternative to other classic outerwear styles, the boxy shape will be offset by the slim cut of your trousers, and can be further bolstered by a judiciously-tucked in T-shirt. Navy is the traditional choice, but you can also play with off-white or khaki to keep things tonal. Down below, try a pair of lace-up boots that just graze the ankle.
Remember, a perfectly tailored suit isn't just attire, it's an experience. Book an appointment today, and let us be a part of your extraordinary journey.