The humble waistcoat – one of the most underrated pieces that, once mastered, can bring a whole new dimension to your look. The waistcoat is capable of transcending social situations and dress codes, yet gives you enough room to experiment with layers and remain stylish. Turn the waistcoat's reputation around and read ahead on how tips to rock this versatile piece.
Here are our tips for wearing a waistcoat:
As always, fit is paramount. Make sure it has high armholes, fits snug around the shoulders and torso but without any pulling or excess material. Nonetheless, always button up your waistcoat as its main purpose it to make you look put together, but just like your suit, leave the last button undone so it does not pull when you lift your arms up.
Avoid looking like a waiter by opting for materials such as tweed or cotton, instead of shiny polyester, without any fancy lining or bizarre affectations. Your best bet is to purchase the waistcoat as part of a suit to guarantee a high quality of tailoring and the option to wear a three-piece at a later date.
Contrast your tailoring by wearing a vest in a different colour to the suit or blazer you are wearing. Try a grey or brown tweed waistcoat with a navy suit in the colder months. Play with texture and pair it with pieces of similar texture. Think tweeds and corduroys with denim and other wools. Nevertheless, waistcoats are perfect for layering, adding a point of difference instead of simply throwing on your boring old overcoat.
If you like to dress boldly and with confidence, a waistcoat that contrasts with the colour of your suit can really set you apart from the crowd.
A waistcoat doesn't have to be an exclusively formal piece. You can wear your waistcoat separately from a suit, and pair it with relaxed shirts, chinos or jeans. Your waistcoat can even be a trendy weekend alternative to a sports coat or blazer.
Tip #5: Have Fun with Different Fabric
Waistcoats come in all shapes and sizes, and they can be a great way to add some extra diversity and flair to your wardrobe. We highly recommend the classic pairing of a wool dinner suit with a silk brocade waistcoat, and having a couple of flannel or checked tweed waistcoats is a great option for smart-casual events too.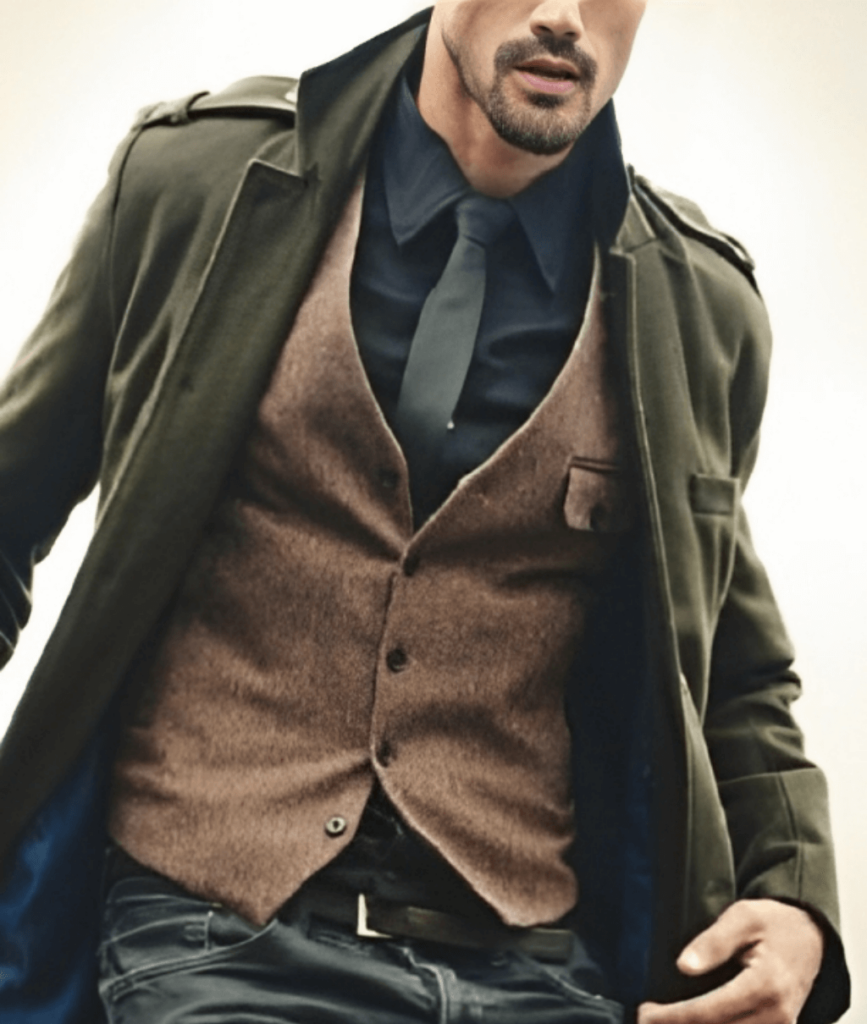 Tip #6: Don't… Fasten the Bottom Button
Whether you're wearing a business suit, wedding suit or a casual outfit, you should never fasten the bottom button of your waistcoat! Leaving this button undone makes sure that the waistcoat sits cleanly on your hips and looks natural and well-fitted.
A waistcoat is designed to cover your waist and hips, but brands often cut their trousers so low that the shirt can be seen beneath your waistcoat. This isn't the best look, so make sure that your suit is tailored so that your shirt isn't popping out!
Tip #8: Throw in A Tie-clip
A well-tailored formal look is all about balance. One mistake people often make is to wear a waistcoat and a tie clip together. Both items do the same job (keep your tie in check), so it doesn't really make sense to wear both! 
And there you have it! The dos and don'ts of wearing a waistcoat! If you have any questions – or would like to arrange a suit for an upcoming event – don't hesitate to get in touch.
Remember, a perfectly tailored suit isn't just attire, it's an experience. Book an appointment today, and let us be a part of your extraordinary journey.