WEDDING SUIT PURCHASE BRISBANE
Exceptional quality, range and affordability
If you are chasing the perfect fit for your wedding suits that are altered exactly to your preferences then purchasing your groom's party suits may be the right option for you.
At Black Jacket Suiting we believe buying a wedding suit (especially for a groom) is an investment and our product ranges are designed to provide you with longevity and value for money. Purchasing a wedding suit allows you the discretion to personally customise your outfit to your exact measurements and body type.
At your appointment your stylist will provide you with bespoke advice on the brands and cut of suit that is best paired with your desired style/colour as well as what sizing will minimize your alterations costs.
Completing the circle our wedding discount packages ensure your wedding day is affordable all while receiving first class service and advice from your industry leading partners and wedding specialist's Black Jacket Suiting.
WEDDING SUIT PURCHASE PACKAGES
Essentials Wedding Package
*Minimum 3 People Required
*Minimum 3 People Required
*Minimum 3 People Required
Made-To-Order Wedding Package
*Minimum 3 People Required
Initial Consultation & Quoting
The first consultation (60mins) allows your stylist to chat with you and your partner about design, styles, patterns, cuts, and budgets to create a unique and personalized package for your big day. Sizing and try-ons are welcomed.
Outfit Confirmation & Preliminary Sizing
Your second consultation (30mins) allows you and your groom's party to confirm the items you are interested in. Your stylist will take preliminary sizing of the garments and note any specific requirements and quote you on expected alterations.
Order Reservation & Preparation
To guarantee your order and in line with our suppliers buying cycles we touch base to confirm the specific garments you require, complete deposits, and reserve your garments in store ready for final fittings. Later changes can still be made subject to T&C's.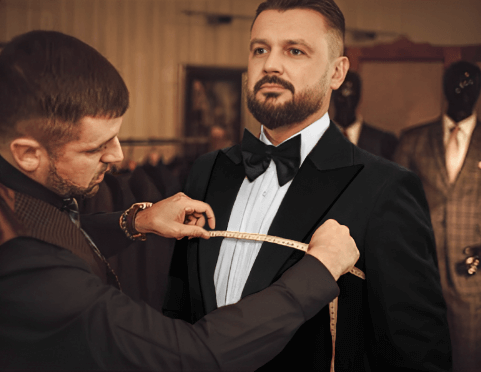 Final Sizing & Alterations
The final consultation (30mins) allows for your groom's party (group or individually) to fit your outfits and confirm our recommended alterations. The garments are they sent to our expert tailors to be prepped and ready for collection 1-2 weeks prior to your wedding.
Do you have less than 2 months to your wedding date? We can still assist you but need to move quickly. Enquire Now and we will be in touch.
Choose Your Quality Level
Collect Your Perfect Outfit
Are you after a truly unique suiting experience for your wedding? The Black Jacket Suiting Custom range provides you with the ultimate suiting experience. Our Tailor-Made suiting offering gives you almost limitless discretion over colour, fabric, cut and design detail to ensure you have a one of a kind suit to make you wedding day as unique as you are.
The Custom Experience Package
Make a booking today with the link below or if you would like more information send an enquiry by completing the form and we will get back to you with a bespoke response.