Once you have found your perfect wedding suit to buy or hire, check out this wedding suit accessory guide because it's time to accessorise.
Adding wedding suit accessories allow you to personalise your own look to show off your own personality and style.
At Black Jacket Suiting, we have come up with a few wedding suit accessories that every groom needs for that special day. Our wedding suit accessory guide includes a few essential items that will definitely complete your look from top to bottom.
So after you suit up, it's time to bling up!
Adding jewelry to your wrist does not hurt your style but it will help enhance your look. On the other hand (no pun intended), your watch must not be too large or noticeable: a simple gold, metal or leather-strapped watch should do the trick. The watch should complement the suit and not steal the attention or focus away from the suit.
Wearing cufflinks completes the whole look. Some people say wearing a suit without cufflinks is like wearing a suit without a tie. There are no strict rules on wearing cufflinks as you can customise your cufflink to your own choice. Some couples decide on a special design of cufflinks for the groom, reflecting their individual taste.

The general rule is that the bow tie is more formal than the tie or the cravat. Depending on the style of wedding, you can really choose between either. Some people say that bow-ties are for tuxedos, and ties are for suits. But in reality, you can choose either option as both would help promote your look. But if you really want to look your best at the wedding in your tux, we would recommend going with a bow-tie.
For something so small, it is surprising how the handkerchief plays a large role in how the whole outfit comes together. But you have to find the right handkerchief for your suit, and the choice really comes down to the material and colour.  The basic rule is, the handkerchief must match with the colour of the tie, and the material of it must match with the suit. The handkerchief works to complement the suit in a small significant way.
The best and safest, way to complete the wedding suit is to find a belt that would complement the suit.  For traditional black and white suits, it is recommended to go with the black belt as it is the safest colour and matches all styles.
Don't be afraid to show some sock! Remember that socks should not stand out too much from the suit. Try picking a sock that would match with the tie, use a solid colour or a sock with a small visible pattern.
Because you are on your feet for most of the day, it is important you have a comfortable and stylish pair of shoes. The best and safest way to complete the wedding suit is to find leather shoes that would complement the suit. We recommended black leather as it is the safest to go with when choosing a colour and material to match your whole outfit.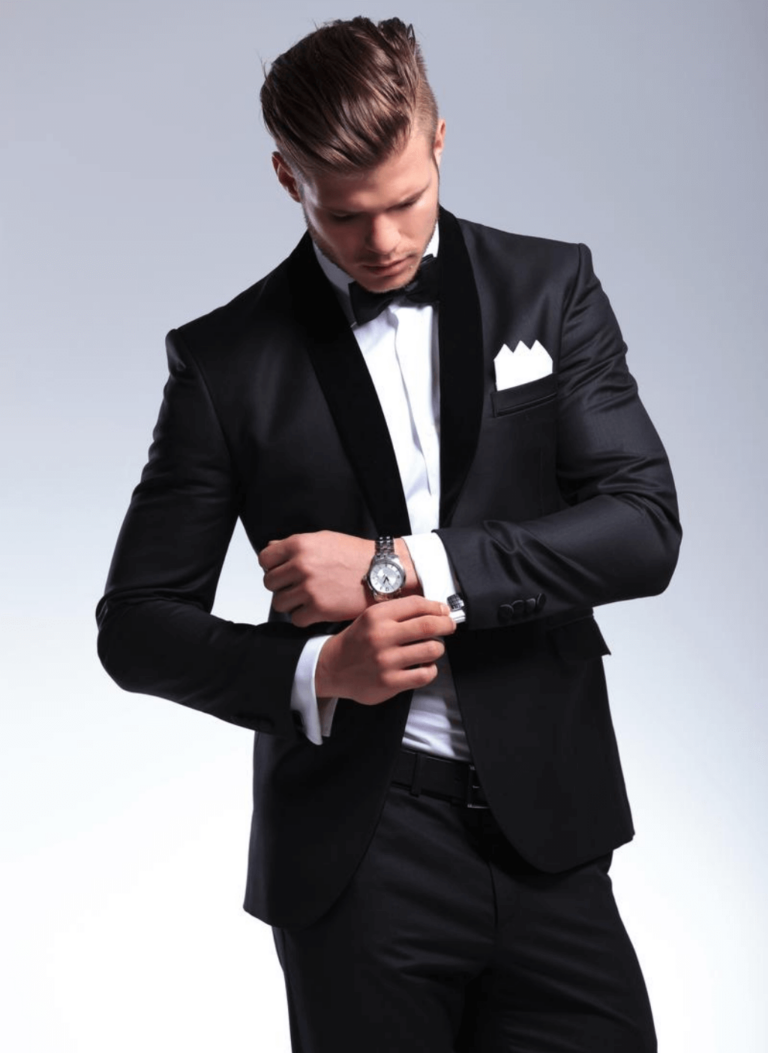 When it comes to weddings, we are experts in our industry. Organising your wedding suit through us is not only stress-free but our systems combine efficiency with cost-effectiveness in order for us to provide you with product diversity, expert knowledge as well as competitive prices. Once your suit is all set, this wedding suit accessory guide is complete with all the accessories you need to grab before the big day.
For more information contact Black Jacket Suiting for all your wedding suits in Brisbane, and book your custom fitting session. For more information about our products and services, visit or contact Black Jacket Suiting today.